The Shaklee Difference - At Shaklee we often talk about the Shaklee Difference -- things that set Shaklee apart from all the rest, especially when it comes to our products. When it comes to Shaklee's Business Opportunity the Shaklee Difference is just as significant. Here are several reasons why the Shaklee Business Opportunity is in a class by Itself.
Shaklee Pays More - The Dream Plan - Imagine living your life on your own terms, with time and resources to spend on what you love most. Imagine a steady monthly income, complete with cash bonuses, a new car, trips and incentives, while living a healthier life and making our world a better place. Click on this link to watch the video presentation ==> Live Your Dream to find out more about how you can be a part of The Dream Plan starting today!
Roger Barnett: Entrepreneurial Visionary Leadership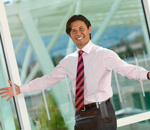 Over five years ago Roger Barnett purchased Shaklee after spending five years and $20 million dollars looking for the perfect opportunity. Roger had already built two billion dollar companies before he was 35, but Roger had bigger plans. He wanted to create a company for the ages, one that could do the most social good --creating a healthier life for everyone and a better life for anyone who wanted it. He looked at over 75 network marketing companies. The fact that he chose Shaklee to create this global vision speaks volumes.
Having a visionary leader like Roger at the helm is hugely important to the success of a company. Dr. Shaklee was such a person, and he built Shaklee from nothing to a Top Fortune 500 company in less than twenty years. When Dr. Shaklee passed away in the mid 1980's, Shaklee sales leveled off for the next 20 years, maintaining but not growing.
Then Roger Barnett bought the company. In five years he has created what we call The New Shaklee; dramatically increasing the compensation plan, launching exciting new products, garnering major media exposure, including Shaklee on the Oprah Winfrey Show several times, creating a first class training and support infrastructure and expanding internationally into China and Taiwan with other countries in the works.
Roger is just getting started! Under the visionary leadership of Roger Barnett, Shaklee is on pace to double its size in North America and become the largest and most successful Network Marketing Company in the world.
Higher Retention: Shaklee Distributors Stay Longer. One of the attractive aspects of Network Marketing is the ability to create long-term Passive Income. Income where you get paid on the sale of products made by your organization of distributors. The key to earning passive income month after month, year after year is having distributors that are going to be part of your organization year in and year out. In the Network Marketing Industry the average distributor retention is 3 years. In Shaklee the retention rate is 12 years.

Progressive Internet Initiatives. The Internet is a game changer in any industry--including the Network Marketing Industry. However a lot of direct sales and network marketing companies have been slow to embrace the Internet. Many companies tightly control its use, some even ban marketing on the Internet! Shaklee's embrace of the Internet is ahead of the competition and gives you powerful tools to grow your business.
The Capacity For Future Growth - There are a lot of Direct Sales and Network Marketing companies that are tied to one industry or one product, or to markets that have stabilized or are on the downside. Shaklee meanwhile is at the center of not one, but SIX of the fastest growing consumer markets. Markets that are projected to grow by nearly $1 Trillion over the next 10 years.
Shaklee also has tremendous future growth as it expands from the seven countries it does business in today (including China and Taiwan) to over 50 countries in the next ten years. And as part of Roger's vision to create the largest Network Marketing Company in the world, that future growth will be fueled by technological advances and a global sales plan that will allow anyone, anywhere to create a global Shaklee business. Shaklee is the right company at the right place at the right time. Perfectly positioned for tremendous future growth.

The Shaklee Philosophy: Our Secret Ingredient. Shaklee was founded on a philosophy of cooperating with Nature, and adhering to the Golden Rule of treating other people the way you would want to be treated in the same situation. To some people that might seem quaint, but this guiding Philosophy is why Shaklee pays better, has a higher retention rate, has such exceptional products and a stellar reputation. The Shaklee Philosophy is at the Heart of what makes Shaklee such a great company and a great opportunity.
Shaklee has all of the upside of a start up, plus a 57+ year track record and an infrastructure of a half-billion-dollar company." With the Internet, Social Marketing, International Expansion, the products, the Dream Plan, and Roger's visionary leadership, Shaklee is set to propel from a half billion dollar company to well over a 5-Billion Dollar Company! How many more Shaklee million dollar earners will this new wave create? And will you be one of them?
Join Our Team! Over the years we've helped lots of families all across the country create better health, additional income and financial security. We provide personal coaching, training and support that's second to none! Join us and together we'll create a future of unlimited possibilities! Click this link now ==> to join our team today!